Immunity Boosters for Elders – As the age grows, the immune system tends to weaken, eventually leaving seniors susceptible to sickness. Resulting in longer recovery periods as the body's energy mechanism is resulting in diminishing behavior with defenses working overtime to fight off illness. Therefore, knowing the immunity boosters for an elderly person will drastically help in recovering.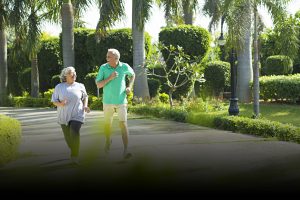 With increasing age, a person's immunity lowers down weakening the body. Proficiently, having a properly maintainable balance full diet and a daily routine of exercising, gives an elderly human a booster of energy. As at such age, the body needs more nutrients than other age group individuals.
Ideologically, the good news is that a healthy lifestyle along with healthy living strategies will immensely improve the immune health of elders. Therefore, that will lead to a better living from preventing and fighting against disease.
Some Useful Tips to Boost Immunity in Elderly individuals:

Take Requirable Vaccinations as per increasing age. Firstly, the "Annual Flu Shot" as older individuals tend to produce fewer antibodies so this vaccination must be vital to be taken. Secondly, in "Pneumococcal Vaccines" it is recommended that the senior citizens must have these two shots of vaccination. And thirdly, "TDAP" is this booster vaccination that is given to senior citizens. Also known as Tetanus-Diphtheria-Pertussis.
Balanced meals play a vital role. Eating a sufficient amount of balanced meals
Try and stay active by exercising. As age increases, the body becomes more prone to diseases, therefore maintaining a daily routine of exercising; meditating, and doing yoga increases life efficiency.
Lower the stress. With rising age, numerous issues bother elderly people. Therefore, healthy happy living is a must at such an age.
Hand washing is necessary. As the body is more prone to catching infection, viruses, and diseases
Rest Enough Body of an elderly individual is weaker, thereby having proper sleep schedules and taking enough rest is an essential factors to be taken care of.
The body requires Nutrients rich food.  Food contains proteins; zinc, iron, and vitamin are essential nutrients.
Spire Immunity Boosters for Elders
The growing age is considerably adverse affecting individuals' health. And person starts to see their health coming down with flu and fever more frequently. Moreover, this is prevented by strengthening the immune system with select foods and supplements.
Nutrixer Immunity Booster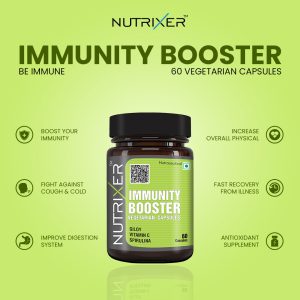 The Immunity Booster Capsules of Nutrixer tremendously help the elderly to improve white blood cell as well as platelet counts. Moreover, boosting the immune system's general ability, to fight illnesses with the increasing age of a person is the main work of these capsules.
Proficiently, our immune system significantly, determines whether we are healthy or unhealthy, therefore the results should be quick and efficient.
The product of Nutrixer is a plant-based having all-in-one nutrient immunity-boosting lifestyle solution that is eventually essential in elderly humans. The immunity booster capsules serve as a powerhouse of proteins, antioxidants, and essential minerals.
Furthermore, Nutrixer Immunity booster development was done after thorough research and utilization of 100 percent natural organic farming techniques. Additionally, a blend of immune-modulatory herbs also includes Amalaki, Giloy, and neem. Whereas, the Nutrixer immunity booster capsule, has a specific formulation. Raising immunological power and increasing resistance to viral, bacterial, or fungal infections.
Wow Immunity Booster
The Wow Immunity Booster Capsule's primarily enrichment with Echinacea Extract, Elderberry Extract, Garlic Extract, Vitamin C, Zinc, and Fruits powder blend. The blend of all these extracts helps in neutralizing boosts immunity in elderly individuals, their free radicals, and metabolisms.
Moreover, it also supports bladder, heart, and respiratory health coupling with the promotion of a healthy cholesterol level and elevates overall skin health. Each capsule of WOW Life Science Immunity booster capsules contains a 600 mg blend of the signature potent formulation for the elderly's wellness.
GoodLife Nutrition Immunity Booster
The Goodlife's Immunity boosting complex is an annual Mediterranean and Asiatic herb with aromatic seeds present in it.
Moreover, the extract promotes healthy blood sugar levels, supports healthy immune functioning by boosting white blood cell production in elderly individuals. And also helps in maintaining joint comfort and mobility, which also promotes healthy digestive functioning.
Furthermore, the immunity booster helps in secreting the healthy digestive enzymes in the stomach through stimulation.
Nisarga Herbs Immunity Booster
The immunity booster herb capsules of Nisarga eventually help in reducing free radicals in the body of an elderly grown person. Precisely, it also protects another organ from oxidation and cellular damage.
Moreover, reduces stress and acts as an antioxidant and anti-inflammatory agent with an impulsive nature of helping reduce viral load in the body and giving the immune system a chance to cope with future infections.
Conclusion:
The increasing age vibrantly starts processing the body in a way that the organ starts getting weak. And sometimes the body also gets prone to getting viruses and infections at a faster rate.
Therefore, these immunity-boosting supplements will eventually help to have good maintainable health in an elderly person.
Most Searched Keywords –
Top Immunity Boosters for Old People
Best Immunity Boosters for Elderly
Immune Boosting Supplements for Elder People
Best Supplements for Immunity Boosting in Elderly